Your compressor servicing options
Compressor servicing is vital – think of  the impact on your business if your machine fails. It's important to service your compressor regularly to reduce the risk of machine breakdown. It will also extend the life of your machine, saving you money in the long term.
So book an annual health check with us today. We will identify any problems such as condensation in the oil or drive belt deterioration that could cause poor performance, and replace any necessary parts to keep your machine running smoothly. For your added piece of mind, we also recommend a preventive maintenance interim visit between services.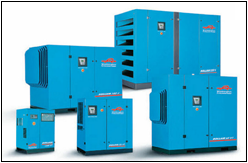 Contract servicing
You can choose to base your contract on your usage: the number of machine hours run with optional interim health checks, or by elapsed time from the last service visit. Whichever you choose, our pricing is competitive.
Pay As You Go
Our no-contract pay-as-you-go plan offers you our simplest service option. Contact us to arrange an initial service, then let us get in touch to arrange a visit at a time convenient to you when your service is next due.
Flexible service plan
Finally, we can offer a flexible service plan tailored to your requirements. This will ensure your air system is being maintained to an agreed standard.
We can offer various service plans starting from your compressor itself, through to the inclusion of your filters and drying systems. Your service plan can even include your condensate management equipment.
Next steps
If you are not sure which plan is best for you, then please contact us to arrange a no-obligation free site survey. Whether you are a small or large business we have a plan to suit your requirements and budget. Being a small company means our overheads are lower than our larger competitors which allows us to price competitively. So why don't you call us and see what we can do for you today?